Recent Events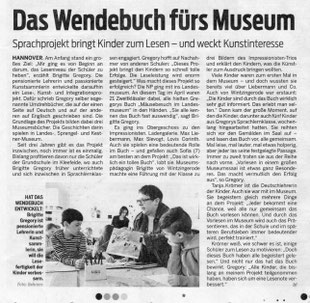 Neue Presse: Article from 4th May 2016
Please note that the picture shows Museum pedagogue Brigitte von Wintzingerode and not Brigitte Grgeory.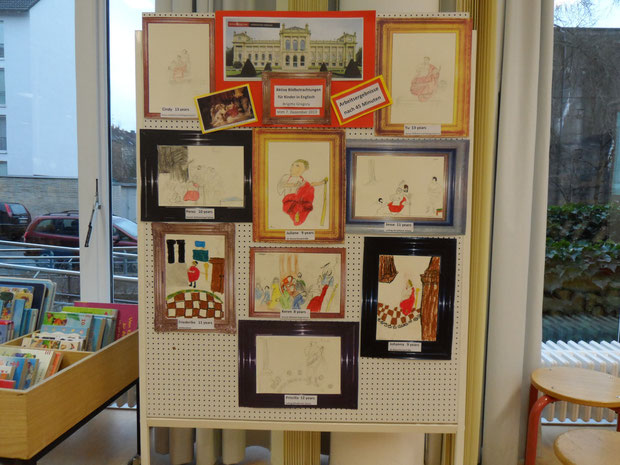 Saturday, 19th January 2013; Saturday 23rd February 2013 (15:00 - 16:30h) - Landesmuseum Hannover
Tour in English for children (age 8 - 14) around some of the paintings in the Landesmuseum, Hannover. A chance for children to learn about the paintings and to improve their own painting skills. Entry free: prior registration in the museum bookshop necessary (tel: 0511-9807 686). 
On 23rd February, the Max Slevogt painting "The Champagne Aria from Don Giovanni (or D´Andrade on Stage)" was looked at in some detail.This tour featured also a question and answer dialogue about opera by Serena Newmark Mout, (previously at Texas Museum Fine Arts) and her husband Edward Mout (tenor)  who also sang an aria from Don Giovanni (please click on link to Youtube Channel above to experience this). To finish, the children produced their own interpretations of Slevogt´s painting.
On 4th March a bilingual reading afternoon (English, German), at which over 40 school children of numerous nationalities (mostly from the HWK and Wasserkampstrasse Primary Schools) presented 7 of Brigitte Gregory´s bilingual childrens books, took place at the Queens Hotel, Kirchrode arranged by the Forum for Culture and Science. All those present agreed that it was an unforgettable occasion and that the children had put on a wonderful performance. It is hoped that a DVD of the occasion can later be made available. 
Further Tours in English for children (age 8 - 14) around some of the paintings in the Landesmuseum, Hannover were carried out on 13th April and 11th May when the wonderful Pontormo exhibition and the collaborative painting "the rebuilding of the city gates at Carthage" by Salvator Rosa and Giovanni Ghisolfi respectively were looked at and discussed. On September 14th two child portraits, A 3 year old boy by Jan Cornelisz van Loenen, Utrecht 1634, and a portrait of an 11 year old girl with a dog from Cornelis de Vos, Antwerp 1633 were compared and discussed.  Photos of the childrens work from these tours can be seen here.
Reading and Art Project: special readings in 2015 -

13th June - Landesmuseum (night of the museums)

19th September - Kestner Museum - "Fest der Kulturen"